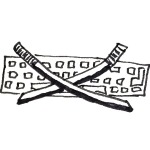 There are software developers much more skilled than what is usually called "guru". I call them "samurai" developers.
While junior developers like the beauty of code they write, intermediate developers like the beauty of system architecture they design, and senior (guru) developers like the business effectiveness of market products they roll out, samurai developers like the beauty of doing nothing. Literally.
By the end of the 12th century, samurai became almost entirely synonymous with bushi, and the word was closely associated with the middle and upper echelons of the warrior class. The samurai followed a set of rules that came to be known as bushidō. /Wikipedia/
So here is a code of conduct of the samurai developer. It is definitely not bushidō direct adaptation, but mostly a poetic interpretation of what is associated with samurais.