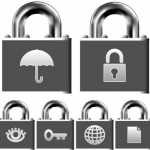 In the previous post on categories and priorities of personal files I described how I do classify my files by the ways I handle their safety and security. Now it's time to describe some of the specific approaches: security of sensitive (private, secret, classified) information.
The difference between security and safety may be non-obvious for some people, so I will describe my vision on this (I may be wrong – correct me then please). "Safety" means the information must not be lost; the loss of information is a fail. "Security" means the information must not be leaked; it is better to be lost or destroyed, but not leaked.
As it is seen now, these goals conflict with each other a bit, but one (me or you or someone else) has to find a balance of security and safety for each category of the files or for some files directly. And here is the essay on how I solve this dilemma and ensure the security.