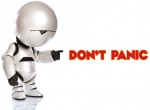 Recently I've found one funny aspect of myself: I am not okay when everything is okay.

Moscow
Once in a while, few years ago, I had a very long period of depression for maybe 3-5 years. It was not that medical depression with anti-depressant drugs to eat all the day as in some movies, of course. Just a "writer's block" applied to a programmer (programmer is a writer in some meanings). Then, once in a while, I decided to stop being miserable, made a plan, and started to implement it, step by step.
That is how I've relocated  from provincial Krasnoyarsk to the rich and perspective Moscow. It was not easy for such a hick to move to the capital and almost the only prosperous city in the country. Rent, job, friends, funds – everything was a problem. And I've solved them all, one by one.
After 3½ years in Moscow I was as prosperous as the city was. Well, maybe I wasn't rich businessman or whatsoever — it is just not my field. But as a hired webdev professional I was fine: I could find good job in 2-3 interviews only, I could earn 1.5-2 times more money than average developer earns, I could make a career from ordinary developer to head of department in 1 year (that is surprisingly fast indeed), so on.
The Malady
At that point I decided life has became too easy, and thus too boring. So instead of eventually growing further, I intentionally invented new big problem for myself. I decided to relocate to another country. What a challenge!