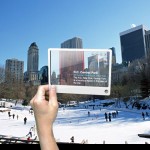 The original article was written in Russian on June 6, 2010 and is located here. The text below is a direct translation to English with no significant changes except for some idioms. This translation was made on August 11, 2011.
I haven't written here for a long time. I've had some turmoil this past week. But now it is Saturday, and I've got some long-awaited peace of mind, and have remembered my long forgotten goals.  And the rush has gone away and does not worry me anymore.
Nirvana. I see the future.  I present my vision to you.