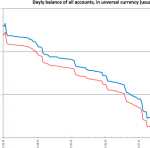 Did you ask me for my budget file? Did you ask me for my 2011 American trip expenses? Oh, you did. And here it goes with some comments and annotations.
The file itself exposes no real information on my possesses. Initial numbers in the first lines have been written there to fit "zeros" in the end on almost all accounts; i.e. these are fake amounts. Also, some lines were intentionally removed for my own and others' privacy.
The only real number here is the sum of expenses for the whole trip. It is US$10190 for Feb'11 — Sep'11 (7-month) trip, including rent, everyday expenses, and even my new assets such as Macbook Air, Kindle, etc.