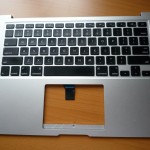 Here are MacBook Air keyboards with US and RU (EU) layout, so as internal side of MacBook Air so called "top case" with keyboard attached.
Recently I've flooded my MacBook Air 13″ mid-2011 with half a bottle of Coca-Cola 1L late-2011. Luckily, after immediate removal of the liquids, it was still working, more or less. Only "<" and ">" keys stopped working, keys' lights persistently dimmed, and all the keys became sticky while typing.
To repair MacBook Air Unibody after such a flooding, you cannot just replace a keyboard. You have to replace the whole top case, which includes keyboard and all the whole aluminum plate with palm rests; the top case does not include the touch pad (only a hole for it).
At the same time I've decided to replace US keyboard layout (this MacBook Air was bought in US) with Russian one, which is a subkind of European. Here you can compare US and RU/EU keyboard layouts:
[Read more…]