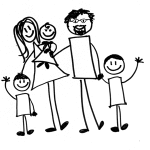 I noticed that bigger companies have more married employees.
Some time ago, I had an interview with Yandex: all six interviewers (two times by three) were ring-bearing diligent family men. So evidently diligent and so evidently "family men" even in their image, their outfit, that this has caught my eye. Even if some of them were not "family men", they successfully simulated as the ones.
This dependency is very obvious: to support a family one need money, and not just money, but stable money flow, even when crisis or wars happen; and personal ambitions of growing and improving go to the background. And only the big corporations have such stability. Also, all personal energy goes to supporting the family and to raising the children, so there is nothing left for self-improvement.