I used to buy leaf tea in regular grocery stores in Russia. You know, on one side there are tea bags, on the other side there leaf boxes. It was some kind of surprise here in Canadian groceries to find tea bags only. No weighed, no loose tea. Don't know why.
If you will ask me what's the difference, I'll hit you in your face with my fist. Really. This is obvious. Bag tea is not a tea indeed, it is a sawdust with artificial aroma. Technically, tea bags are made of a waste which comes out of normal tea making process. I drink that sawdust too, so as instant coffe — when I'm in hurry or too lazy. But they are two different kind of beverages.
Today I was lucky. During a noon walk under rain and wind (I'm weird, I know), I've discovered one excellent tea shop nearby. Well, not literary nearby, but not so far from me. It takes only 15 minutes or 7-9 streetcar stops to get there.
It's on Queen and Leslie, here. "Steeped and Infused" is its name. And here is their site – www.steepedandinfused.com.

The most amazing thing there is that, compared to tea shops in Russia, you can smell at the teas while you choose. No need to ask to give you each and every box. Just take any and smell. Then you say to seller what do you want.
And the other thing I liked is a design of the shop. First, it is just nice and cozy — not all shops can achieve this effect. Second, tea jars are warmed from beneath (I think with the lamps of the shelf below), so when you smell at it, it has a strong scent of its ingredients, not just of a grass or cardboard or whatever as usually. This little trick is awesome!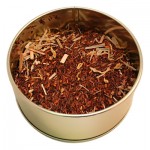 Though I'm not sure on the prices — whether they were cheap or expensive. I'd better find few more shops to compare first (if you know some — tell me please).
65g of Rooibos Lemon Chiffon was $9.75. Plus two more samples (small bags) of other teas, plus taxes — $13 in total.
Here is their online shop by the way, just have found it: http://shop.steepedandinfused.com/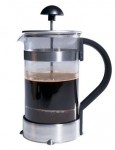 And what I used to use for making (steeping and infusing, heh) the tea is this IKEA french-press for $9.99. Just a Moscow habit. At least, it is easy to use and to clean, so as to see through how the tea brews (I rather like the process than the result).
Can't say I'm guru or gourmet in teas. I just like them, their smell and their taste. It gives me some kind of comfort and feeling of home if I can just sit drinking cup of exotic tea.